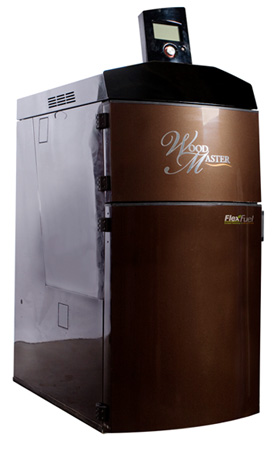 WOOD / PELLET BOILER
WOOD MASTER FLEX FUEL
WOOD-FIRED ENERGY INDEPENDENCE
Heat your whole home for far less money than fuel oil, propane, natural gas and even off-peak electric rates with WoodMaster's Flex Fuel Series. Choose the least expensive fuel -- cordwood or wood pellets -- and burn less of it, guaranteed. WoodMaster furnaces are manufactured and distributed in Red Lake Falls, Minnesota. Since 1989, WoodMaster has built industry-leading outdoor furnaces, continually finding innovative uses of natural energy and alternative fuel sources. The company is now the first to manufacture bioenergy flex fuel furnaces. The Flex Fuel is the cleanest burning EPA Phase 2 furnace on the market.
---
PELLET BOILERS
WOODMASTER Ultra Series
WOOD HEAT FOR THE WHOLE HOUSE WITHOUT SPLITTING, STACKING, OR HAULING!
Instead of developing their own pellet burner, WoodMaster went straight to the experts in Europe and licensed the Renovator technology. They paired this super-high efficiency system with a well known and loved rugged American boiler chassis to give you the Ultra Series. Never load your boiler with optional bulk pellet deliveries and a bulk hopper! The WoodMaster Ultra Series pellet furnace is powered by the Renovator 20kW or 30kW. Its fully automatic P.L.C. (Progammable Logic Control) allows ease of operation and the burn back protection keeps it operating safely.
With its compact design, the Ultra Series furnace is self lighting, self cleaning and has a large ash storage. It is safety tested to meet or exceed quality and safety standards and may qualify for rebates/programs.
---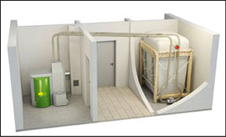 PELLET BOILERS
MAINE ENERGY Series
CHEAPER. CLEANER. CLOSER.
The central heating systems of tomorrow are here today. Built in Bethel, Maine, for the U.S. Market, the licensed boiler design was acquired from OkoFEN, the world's leader in automatic wood pellet boiler design and technology since 1989. The AutoPellet boiler is the world's finest fully-automatic wood pellet central heating system. These systems are designed to make your life easier. Pellet ash is automatically removed from the boiler and compressed into the integrated ashbox which can hold 2 tons of burnt pellets before emptying. There is no need to shut the system down for ash removal or wear protected mitts. Pellets are fed into the burner using an auger, or in cases where the pellet storage is not next to the unit, a vacuum line. The systems are backed by a 30 year warranty.
---